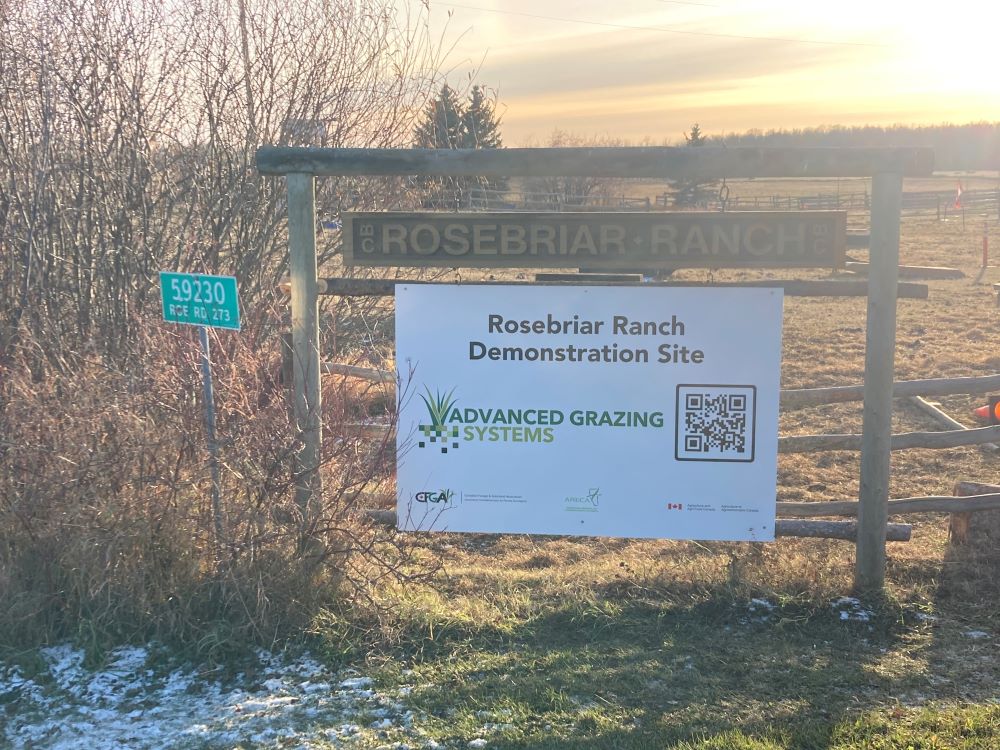 About the Location
Rosebriar Ranch is located four miles west and three miles south of Westlock. It's four acres of land is located in a grey wooded soil zone. It contains 197 bales, black peat in the lower areas, some treed area and a seasonal creek through the lower pasture area.
About the Farm
Rosebriar Ranch was established in the early 1950s. It is owned by third generation farmers Leane and Murray Buxton. Their farm has 40 cow-calf pairs as well as five horses.
Learning about Rotational Grazing
As Murray is from New Zealand, the idea of rotational grazing is not new. The Buxtons became interested in rotational grazing after completing a holistic management course over the winter of 1993 and have used information gained from that to some degree ever since.
They are interested in rotational grazing systems that create low input ways to affect the land to increase production without increasing input costs. They have used rotational grazing methods that use animal impact and grazing to increase grass and forage production for approximately 30 years.
The Rotational Grazing Objective
The rotational grazing objective at Rosebriar Ranch is to create easily sustainable pasture and better biodiversity in the soil to maximize the potential of the land base they farm, increase yield and gains in the pasture and animals they own and graze without the added overhead of synthetic products such as fertilizer.
Acknowledgement
Thank you to Gateway Research for the support with soil samples and advice regarding the trial.
This site was originally seeded in the spring of 2017. Fencing existed prior to this project but an additional 10 picket posts and one high-tensile wire were added to the existing perimeter fence. The farm uses the existing water troughs.
At the start of the season there was poor grass growth and low yield as far as feed which was previously cut for hay.
The farm's animals were kept in the pasture from the last week of October until the end of March. During this time cattle had access to five bales of feed every four days with the electric fence being moved to allow access to new feed. They had continuous access to previously grazed feed which also allowed them to use the already established water system.
At the end of the season there was very good growth, diversity in plants, excellent moisture retention and a very noticeable colour difference to surrounding pastures which became deep green in colour instead of the previous yellow green.
While using this system, the Buxtons saw a great distribution of animal waste, animals that ate what they needed instead of "binge eating," cleaner animals that had no issue with lice or other parasites, much less bedding use, much lower fuel usage for feeding purposes (one tank of fuel used from October to March), much lower labour cost to feed (approximately 20 minutes every four days) and no manure that needed to be hauled or spread.
One thing the Buxtons would do differently is to set fences up to better define feed alleys so there is less issue with electric fence malfunction throughout the feeding season.