Everyone can become a guardian of the grasslands with a new immersive online educational game.
Based on the award-winning short documentary Guardians of the Grasslands released in 2019, the game of the same name is an online grazing simulation connected to curriculum outcomes for students in Grades 7 through 10 in subjects such as Social Studies, Science and Practical Applied Arts. It aims to teach students the ecosystem services provided by raising cattle on grasslands.
Participants learn how cattle promote carbon sequestration and provide wildlife habitat through rotational grazing on native grasslands. By moving cattle at the right time, and leaving enough grass behind, players earn carbon points and attract numerous species of wildlife to their land. Other stewardship practices, like using off-stream watering systems, are also featured along with invasive weeds that must be managed through grazing or avoided for toxicity concerns.
"We know that student learning through gamification is an established trend," said Amie Peck, who manages the Public and Stakeholder Engagement (PSE), a national Check-Off funded program that aims to build public trust in the way beef cattle are raised in Canada. We have had excellent uptake of the Guardians of the Grasslands film in classrooms, especially alongside the resources already created with Agriculture in the Classroom Canada and the Canadian Cattle Foundation. We wanted to create a unique experience for students from every background to imagine themselves as land stewards and discover how different decisions result in changes to the ecosystem."
The project was made possible through the Youth Literacy in Agriculture funding grant provided by the Canadian Agricultural Partnership (CAP) with the Government of Alberta, as well as financial contributions provided by PSE, the Canadian Cattle Foundation and Ducks Unlimited Canada (DUC). In-kind sponsorship of the game was provided by Birds Canada and the Nature Conservancy of Canada.
"Canada's grasslands are special, precious places and beef farmers and ranchers play a critical role in conserving this ecosystem and all the environmental benefits it provides," Kristine Tapley, national lead for sustainable agriculture for DUC. "We are proud to help connect Alberta classrooms to nature where they can see and hear the sights and sounds of a grassland by putting themselves in the virtual boots of the stewards who raise our food."
While the first version of the game is specific to Alberta, additional classroom versions are being planned for Ontario, Manitoba, Saskatchewan and British Columbia for the fall of 2023. You can play the Guardians of the Grasslands Game today at www.gotggame.ca.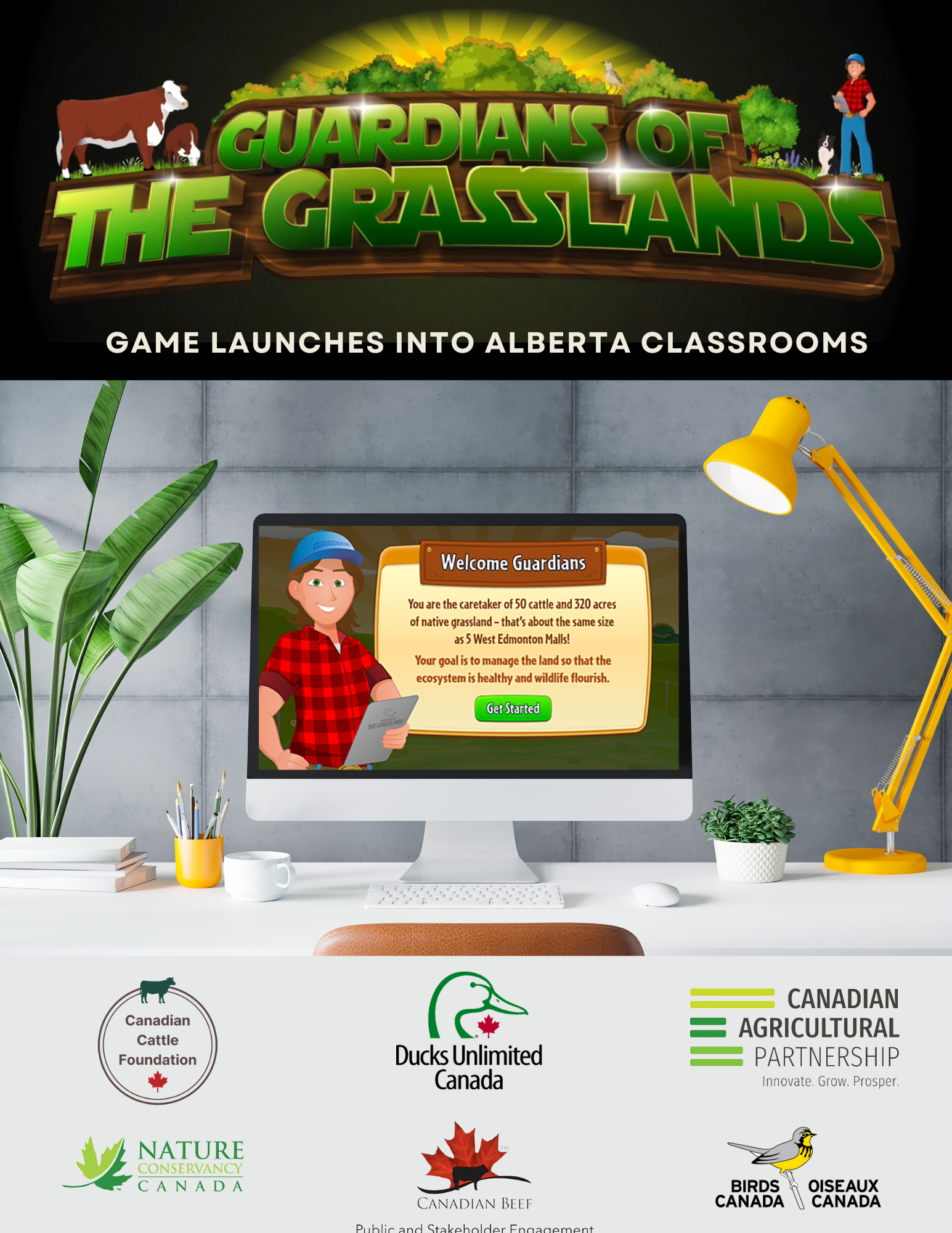 Back to Admin