Back To All
About this Webinar
Canada's Ecological Gifts Program provides a way for Canadians with ecologically sensitive land to protect nature and leave a legacy for future generations. Made possible by the terms of the Income Tax Act of Canada, it offers significant tax benefits to landowners who donate land or a partial interest in land (e.g., conservation easement) to an eligible recipient such as a land trust, environmental charity, or government. Recipients ensure that the land's biodiversity and environmental heritage are conserved in perpetuity.
The Ecological Gifts Program has reached an important milestone: Canadians have donated over one billion dollars' worth of ecologically sensitive land for the purpose of conservation since 1995. Over 1,800 ecological gifts have been donated across Canada, protecting more than 240,000 hectares of wildlife habitat, including for many species at risk. Approximately 45% of these hectares lie within the Prairie region of Alberta, Saskatchewan, and Manitoba, protecting native grasslands, forests, and wetlands.
Each ecological gift, no matter the size, contributes to the creation of a network of protected areas that reaches across every region in Canada and is a true reflection of the value Canadians place on the importance of protecting nature. Join us to learn more about this important program and its benefits!
Speaker: Aleksandra Bugajski, Wildlife Biologist, Canadian Wildlife Service, Environment and Climate Change Canada
About the Speaker
Aleksandra is a biologist with the Canadian Wildlife Service (CWS) and has been the Prairie Regional Coordinator for the Ecological Gifts Program for the past four years. She has also previously managed Environment and Climate Change Canada's funding program, the Habitat Stewardship Program for Species at Risk. Prior to joining CWS, Aleksandra worked in the environmental consulting industry, as well as with Parks Canada and conservation non-profits. She holds a Master of Science Degree from the University of Regina, where she studied the foraging behaviour of Double-crested Cormorants around Lac La Ronge, Saskatchewan.
This presentation is FREE! Tune in from anywhere! Everyone welcome!
The Canadian Forage and Grassland Association (CFGA) is pleased to be a presenting sponsor of the Saskatchewan Prairie Conservation Action Plan (SK PCAP) Native Prairie Speaker Series Webinars along with North American Helium, Nutrien, SaskTel and Saskatchewan Cattlemen's Association.
For more information contact SK PCAP at (306) 352-0472 or [email protected]
Register
CFGA OFCAF Claims Information Session/Séance d'information pour le traitement des réclamat
Mar 3, 2023
1:00 PM EST - 2:00 PM EST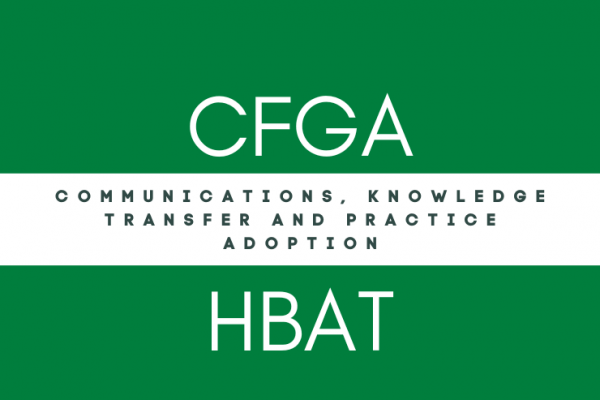 Connecting with Media
Nov 24, 2022
1:00 PM EST - 2:00 PM EST
Laura Rance-Unger from Glacier Farm Media will discuss building relationships with farm media and what makes a story newsworthy.
FCS Supported
OFCAF Supported
Partner Events
Ag in Motion - Why and How to Generate a Grazing Plan with Steve Kenyon.
July 18, 2023
11:30 AM CST - 4:30 PM CST
Join CFGA to learn why and how to generate a grazing plan with Steve Kenyon.