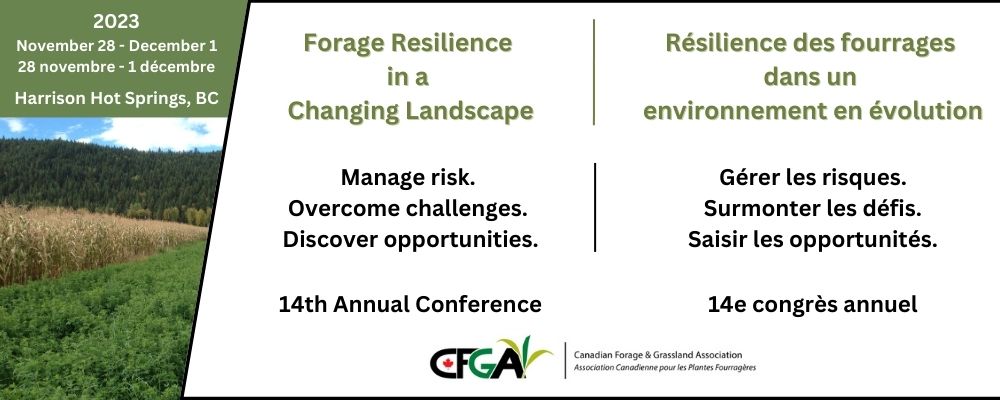 November 28 to December 1
Welcome! Bienvenue!
We're heading to Harrison Hot Springs, BC for the 14th annual conference of the Canadian Forage and Grassland Association, "Forage Resilience in a Changing Landscape: Manage risk. Overcome challenges. Discover opportunities."
During the three-day event, we will learn about exciting and cutting-edge forage happenings in that province and broaden the learning to include valuable information and inspiration for forage producers across the country.
Learn about issues the forage sector faces and how they overcome these challenges, as well as look ahead to opportunities.
Agenda and Registration Details Coming Soon!
*********************************************************************************************************
Nous serons à Harrison Hot Springs, en Colombie-Britannique, pour la 14e conférence annuelle de l'Association canadienne pour les plantes fourragères "Résilience des fourrages dans un environnement en évolution : Gérer les risques. Surmonter les défis. Saisir les opportunités."
Nous découvrirons les événements passionnants et avant-gardistes en matière de fourrages qui se déroulent dans cette province. Durant cette rencontre qui s'étalera sur trois jours, nous saisirons l'occasion d'accroître nos connaissances et inspirer les producteurs de fourrage de tout le pays.
Mieux connaître les défis auxquels le secteur des fourrages est confronté, comment les surmonter et saisir les opportunités qui s'offre à nous.
L'ordre du jour et les modalités d'inscription seront bientôt disponibles !